Well, CC cream. Was there ever an AA cream? I guess that doesn't quite roll off the tongue.
Winter hit me HARD. While my bones were chattering through my blanket scarves, my skin was SO flakey and dry. To be frank, my face looked like sh*t. It was kinda okay makeup-less… but blend that foundation in and it just sat on my face, all cracked like an old map, eeeeek.
I tried adding a "dry skin" moisturizer in the morning.
I cut down exfoliating to nighttime only.
I layered up the moisturizing face masks.
I stopped using the tea tree oil I was trying to remedy my breakouts (still figuring that out, stay tuned).
I tried a bunch of sample primers under my foundation.
Nothing. Finally, with a big ol' sigh, I checked off all the boxes except one – my beloved Fenty foundation.
Now, some of you might remember my post reviewing the foundation here. Key point – it's a matte foundation. Yet, here I was, with my dry-ass skin, trying to make this matte foundation work. No bueno.
My skin's been doing a lot of weird things in the past year.
One of those things I've discovered is winter skin. While this is obvious to some, it's a completely new concept to me. Rihanna's beautiful, award winning foundation did work for me… but summmmmeeerrr skin me. Summer skin: when I'm a bit more oily and a matte foundation is my BFF.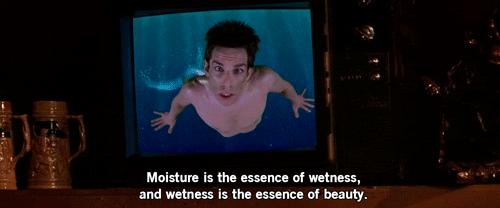 Winter skin needs moisture. My first thought was to research moisturizing foundations, or better primers, or better skincare. BUT! I quickly remembered my life before foundation, when allllll I used was BB cream.
More research, more asking friends (and my mom), more beauty guru Youtube reviews… and alas, I made a purchase.
Ladies and what few gentlemen are reading this, I have fallen in love.
Coincidentally, I remember getting a sample of this CC cream in a sample bag awhile ago, and I wasn't a fan. Oh, how wrong I was.
God help me if I know what CC cream is exactly, but for all intensive purposes, it's a tinted moisturizer. Instantly this makes me think, okay, sheer coverage. But thiiisss magical little bottle is more like medium coverage – maybe even full coverage for some (it IS marketed as a full coverage foundation).
And the finish – the FINISH!! So natural and beautiful, its perfect for day to day wear. Like my skin… but BETTER??? ha.
Also, it apparently has a bunch of anti-aging serums and oils in it to, but heck, the SPF is good enough for me. I will say though, I've noticed a difference in the softness and over complexion of my skin since I started using it.
Couple of cons,
because no beauty product is perfect.
The shade range is, well, sad. Seven shades, with more light than dark pigments. Now while most BB/CC creams have a limited shade range because the product is more sheer, I'm surprised that this "full coverage" doesn't offer more of a range! Ah well, maybe in the future.
The other con would be the common issue with any moisturizing product – lil greasy sometimes. Even with my dry skin, I found I needed to use primer and a bit of setting powder, and touch up here and there throughout the day. But in my non-expert opinion, it's much easier to deal with some shine throughout the day, then cakey dryness!
Should you buy this?
I'm a huuuuuge believer in try before ya buy. Sephora is great about letting you return almost anything, so you could go that route – BUT, to save you the headache, Sephora also lets you take home a sample of almost anything!
I'd say if you already are dealing with oily skin, steer clear of this guy – although, a little goes a long way and you may like it more day to day wear. Combination/dry skin – I think you'll love this as much as me!! Just remember you might still need a primer/setting powder : )
Little side note! The brand recommends using one of their special brushes to apply the product (aka a ploy for you to spend more money), but I've been applying it with a damp beauty blender and it's been phenommmm.
What's your favorite face product? Do you have trouble dealing with winer skin too? Let me know in the comment section below!

XO, MEESH